Chocolate chip cookie recipe with a twist. Add mini chocolate chips and red mini M & M's.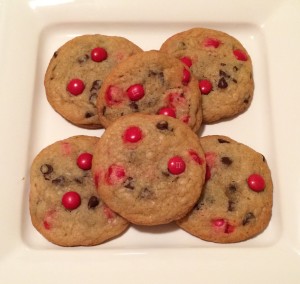 Mini Chocolate Chip Cookies
Ingredients
2½ cups flour
1 tsp. baking soda
1 tsp. baking powder
½ tsp. salt
1 cup (2 sticks) butter
¾ cup sugar
¾ cup brown sugar, packed
2 tsp. vanilla
2 eggs
6 oz. mini chocolate chips (half bag)
6 oz. mini M & M's
Instructions
Stir flour, baking soda and baking powder in bowl and set aside.
Beat butter, sugar and brown sugar in a separate bowl until creamy.
Add vanilla, then one egg at a time.
Add flour mixture to butter mixture a little at a time. Mix well.
Stir in mini chocolate chips and mini M & M's.
Refrigerate dough for at least a half hour before baking.
Roll dough into little balls and place on an ungreased baking sheet.
Bake at 350 degrees for 8-10 minutes.
Tip- I used Christmas Mini M & M's- separating the green and red candies. After rolling into ball and placing on cookie sheet I added a few more M & M's on the top of the cookie before baking.