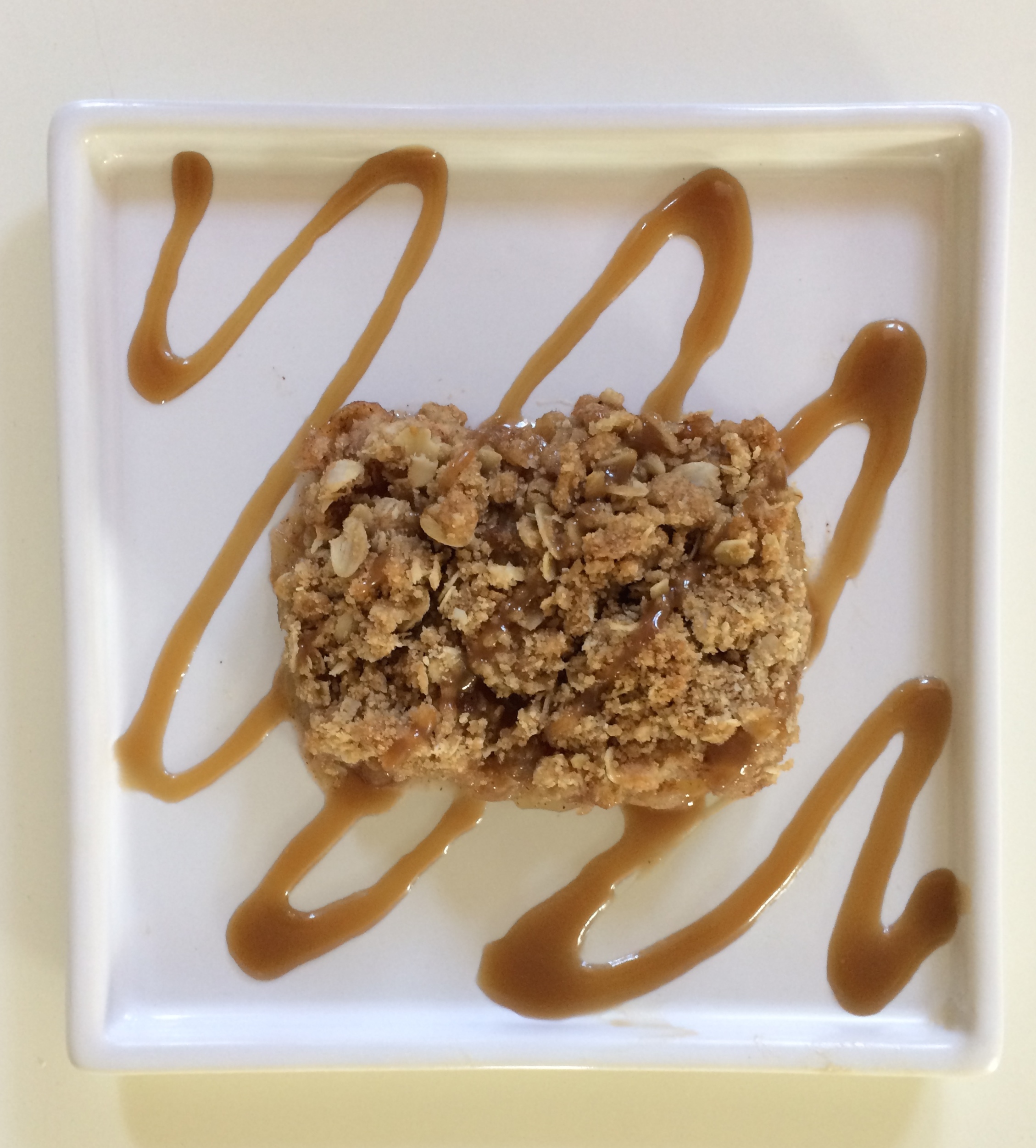 This apple crisp is delicious paired with an easy homemade caramel sauce. I used Granny Smith and Honeycrisp apples for their crisp, tart flavor.  Perfect for the chilly days ahead!

Apple Crisp
Ingredients
6 apples
¾ cup sugar
1 tsp. cinnamon
½ tsp. nutmeg
1 tsp. vanilla
2 Tbsp. water
1½ cups old- fashioned oats
1 cup sugar
¼ tsp. baking soda
¼ tsp. baking powder
½ cup (1 stick) butter, softened
Instructions
Filling- peel and slice apples.
Mix cinnamon, nutmeg and vanilla well.
Add to apple slices.
Spray 9 x 13 pan with cooking spray. Place apples in pan and sprinkle with 2 Tbsp. water.
Topping- Mix oats, sugar, baking soda and baking powder in a bowl.
Cut up softened butter and mix with a pastry blender or a fork until mixture is crumbly.
Sprinkle over sliced apples.
Bake at 350 degrees for 45 minutes.
Caramel Sauce
3/4 cup butter
1 1/2 cups brown sugar, packed
2 Tbsp. water
1/4 tsp. salt
1 Tbsp. vanilla
1/2 cup evaporated milk
Add butter, brown sugar, water and salt to saucepan. Stir over medium heat until butter melts. Bring mixture to a boil for five minutes. Continue to stir while boiling to prevent burning. Remove from heat and add vanilla. Add evaporated milk to desired consistency. Store in refrigerator. Microwave a few seconds before serving. Drizzle over Apple Crisp or ice cream. Enjoy!