S'mores bars are the perfect summertime treat. Easy to make and delicious! The buttery graham cracker crust is the perfect base for melted chocolate and marshmallows. You will definitely want s'more!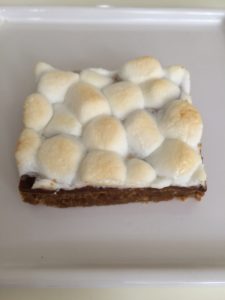 S'mores Bars
Ingredients
3 cups graham cracker crumbs
½ cup brown sugar
14 Tbsp. melted butter
2 tsp. vanilla
12 oz. pkg Ghiradelli chocolate chips
¾ bag of mini marshmallows
Instructions
Line 9 x 13 jelly roll pan with parchment paper and spray with cooking spray.
Mix graham cracker crumbs and brown sugar in bowl.
Melt butter and add vanilla when cooled.
Pour butter mixture into graham cracker crumbs and stir- it will look like wet sand when mixed.
Pat mixture into bottom of jelly roll pan. Use bottom of measuring cup to pack it down and smooth out crust.
Bake at 350 degrees for 10 minutes
Remove from oven and immediately pour chocolate chips on crust to melt.
When chocolate chips are shiny, they are melted enough to spread evenly over crust.
Place marshmallows on melted chocolate evenly.
Place pan on middle rack in oven and broil for 2-3 minutes. Watch closely until marshmallows are lightly browned.
After pan is cooled, refrigerate to set chocolate. Use sharp knife to cut bars after chilled.