Red velvet cake is a rich light chocolate cake that is bright red. Originally, the red color came from using beet juice. The addition of vinegar provides a little extra acid to ensure the baking soda can do it's best rising work.  Vinegar was also helpful in creating the rich red color of the beet juice in the original recipes. I found a delicious red velvet cupcake recipe after trying several recipes. Adapted from a Betty Crocker recipe, adding a bit more vanilla. Top with a cream cheese buttercream frosting and chocolate curls. Delicious!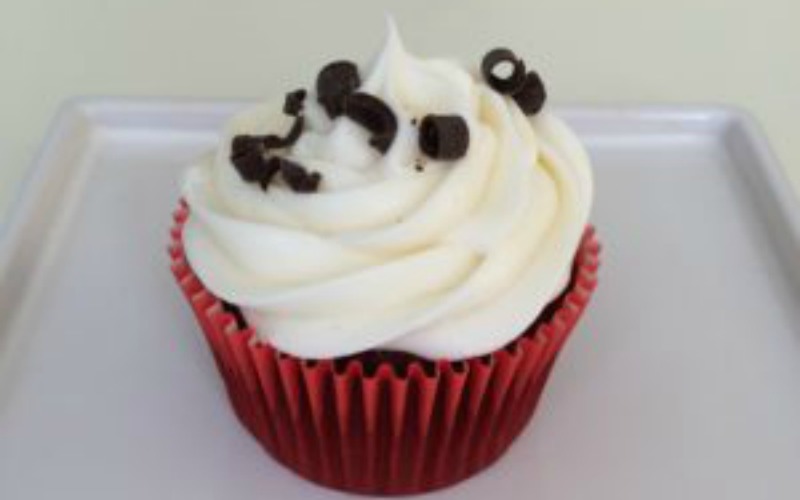 Red Velvet Cupcakes
Ingredients
2¼ cups flour
¼ cup unsweetened baking cocoa
1 tsp. salt
½ cup butter (1 stick) room temperature
1½ cups sugar
2 large eggs
1 bottle red food coloring (1 oz.)
2 tsp. vanilla
1 cup buttermilk
1 tablespoon white vinegar
3¾ cups powdered sugar
½ stick butter softened
½ brick cream cheese
2 tsp. vanilla
Milk
Instructions
Mix flour, baking cocoa and salt in a small bowl, set aside.
Beat ½ cup butter and sugar on medium speed until mixed. Add eggs one at a time and beat 2 minutes until light and fluffy.
Using a spatula, stir in red food coloring and vanilla.
Add ½ flour mixture, alternating with ½ buttermilk at a time until mixed.
Beat in baking soda and vinegar until well mixed.
Spoon batter into cupcake liners about halfway.
Bake at 350 degrees for 20 minutes.
Frosting- Cream butter and cream cheese (softened but not melted), and 2 cups powdered sugar.
Add vanilla and beat well.
Alternate adding rest of powdered sugar and a little milk, beating until consistency to frost.
Top with chocolate curls.