Irish Soda Bread to enjoy on St. Patrick's Day! Irish Soda Bread is a traditional product of Ireland, and was made with only the most basic of ingredients: flour, sugar, baking soda, soured milk to moisten and activate the soda, and salt. Adding raisins and vanilla gives it a little more sweetness. May the luck of the Irish be with you!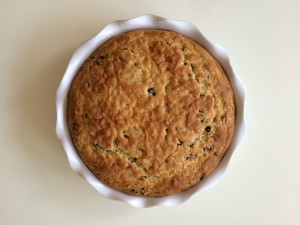 Irish Soda Bread
Ingredients
3 cups flour
¾ cup sugar
1 Tbsp. baking powder
1 tsp. baking soda
1 tsp. salt
2 cups buttermilk
2 Tbsp. melted butter
1 tsp. vanilla
1½ cups raisins
Instructions
Mix together flour, sugar, baking powder, baking soda and salt.
Add buttermilk, butter and vanilla mix well with mixer.
Add 1½ cups raisins.
Bake at 350 degrees for 55-60 minutes.