Just a little variation on the original Rice Krispies Treats recipe creates a richer, vanilla flavor. This is the first time I did not melt marshmallows in the microwave and drop a chunk of butter into the mix! Melting butter slowly and adding vanilla gives so much flavor. Colored sprinkles add a festive touch.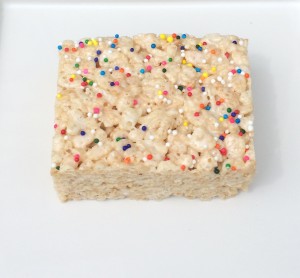 Rice Krispies Treats
Ingredients
4 tbsp. butter
1 tsp. vanilla
1 10 oz. bag of mini marshmallows (I use Kraft)
5 cups Rice Krispies
Instructions
Melt butter in saucepan over low heat.
Add vanilla to melted butter and stir.
Add mini marshmallows and stir till combined.
Slowly add Rice Krispies and mix well.
Press into a greased pan. (I used a smaller rectangular glass pan, an 8 or 9 inch square would work).
Sprinkle with colored jimmies or nonpareils before they set.
Let cool and set before cutting.
Tip- Use buttered parchment paper to press Rice Krispies into buttered pan. The smaller the pan size, the thicker your treats will be.